Project Title
Thermal Ground Plane For Cooling Chips And Semiconductor Devices
Track Code
10350
Website
https://techtransfer.universityofcalifornia.edu/NCD/10350.html?utm_source=AUTMGTP&utm_medium=webpage&utm_term=ncdid_10350&utm_campaign=TechWebsites
Short Description
Researchers at the University of California, Santa Barbara, have developed a novel Thermal Ground Plane (TGP) for cooling semiconductor devices and integrated circuits that capitalizes on the advantages of titanium as a material as well as wicking action. It consists of an integrated array of micro-scale pillars that serve as a hydrophilic wick array that are placed between titanium sheets. The creation of water vapor within the thermal ground plane causes a variety of wicking actions, as the vapor moves from vapor phase to liquid phase and re-circulates, to cool the chip or other semiconductor device that rests on the thermal ground plane, using similar principles to heat pipes. This TGP has an effective heat conductivity approaching ~20,000 W/mK, roughly 500 times higher than solid Copper.




Abstract


Efficient cooling of semiconductor and integrated circuit devices is critical to their operation. Improvements in cooling allow further technological advancement. Titanium is a unique material suited well for harsh environments and is robust and shock resistant.




Tags
hardware, Design and Fabrication
Posted Date
Aug 25, 2017 12:03 PM
The Titanium TGP provides extremely high effective thermal conductivity;
Titanium is ductile, light weight and suitable for harsh environments;
Suitable for many applications (can be less than 1cm x 1cm or greater than 30cm x 30cm);
Fabricated using existing processes such as deep etching, LASER and LCD processing.
Semiconductors/Integrated circuit cooling apparatus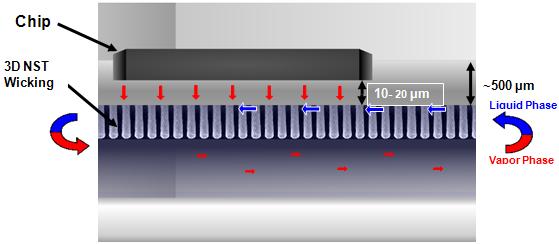 This technology is available for licensing. Patent pending.

Additional Technologies by these Inventors
Tech ID/UC Case
10350/2009-015-0
Related Cases
2009-015-0
Name : University of California, Santa Barbara Office of Technology & Industry Alliances
Title :
Department :
Email : dobis@tia.ucsb.edu
Phone : 805-893-2073
Address :
Name : Payam Bozorgi
Department :
Name : Changsong Ding
Department :
Name : Noel MacDonald
Department :
Name : Carl Meinhart
Department :
Name : Brian Piorek
Department :
Name : Gaurav Soni
Department :